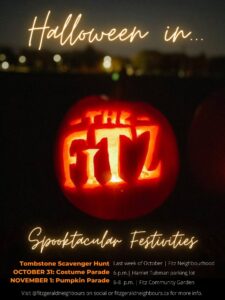 It's going to be a spooky Halloween this year and we are so excited to be celebrating this magical season with you this year.
Tombstone Scavenger Hunt
To kick things off, we invite all Fitz Kids to go on a tombstone scavenger hunt, during the last week of October. Find all 9 golden tombstones, placed in the front yards of our neighbours, to unscramble the secret Halloween word. Submit your findings to [email protected], along with your street address, to have a treat bag delivered to the house. Please include the number of children in your house. 
Halloween Night
With the eased restrictions on gathering, we anticipate many of our Fitz Kids will be out gathering their treats and goodies, going door to door. As neighbours we want to keep our community safe. We encourage everyone to please wear masks when possible and be respectful of the other trick-or-treaters, providing space and waiting your turn before running to the door. Have fun and enjoy the night!
Fitz Costume Parade | October 31, 6 p.m.
For those who want an alternative to going door-to-door or want to start the night off with a hop, join us for the Fitz Costume Parade! Open to all ages, put your costume on display and join us for a short parade around the neighbourhood. We will begin gathering at 5:30 and start the parade at 6 p.m. Coffee and treats will be available on a first come, first serve basis and we encourage neighbours to wear masks or properly distance when possible. 
Route: Start at Harriet Tubman parking lot. Go north on Henry Street. Turn right on Russell Ave. Turn right on Catherine Street and end at the Fitz Community Garden to make our way back to the school. (estimated 15 minutes). All Fitz Neighbours are welcome to join us along the route to cheer and enjoy the display.
Fitz Pumpkin Parade | November 1, 6-8 p.m.
Put your jack-o-lanterns on display once more! Bring your carved pumpkins down to the Fitz Community Garden to be admired and enjoyed before they make their way to the compost pile. Volunteer judges will be onsite to rank the pumpkins on a variety of categories, as well as ballots will be available for the People's Choice Award. Come and enjoy.