SARAH JERROM—COMPOSER, JAZZ VOCALIST WITH DREAM LOGIC
Written by Fitz Neighbour Charlotte Mikolajewski
---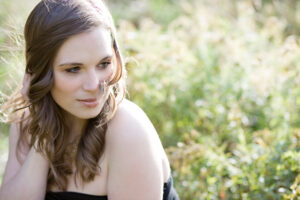 Sarah Jerrom is a composer and jazz vocalist who studied music at the University of Toronto, where she began with classical singing before switching to the jazz program.
Sarah is currently working on two substantial projects: she's the lead vocalist, composer and arranger of the jazz quartet Dream Logic, and she's composing an orchestral work, The Magpie Suite.
The COVID-19 pandemic has allowed Sarah to revisit and prioritize orchestral composition. Three years ago, she began The Magpie Suite as a way to process personal tragedy through music. To compose, perform and record it, she was awarded financial support from the Canada Council for the Arts and the Ontario Arts Council.
"It's been my life for the past three years," says Sarah, who added it's important "to keep your integrity forward."
"Sometimes, it's easy to fall into the dark place, but don't let that dark place intrude upon your creativity and what you are giving."
Despite feeling "shell shocked" by drastic lifestyle changes, Sarah says the pandemic opened up "swaths of time" for composing and editing The Magpie Suite.
"It's been really important for me to finish this project—not just personally, but so it can be put out there. I have this sense of, 'If it can reach one person – make one difference – I'm going to focus on my composition even while the world is ending.' I did feel an urgency."
THE MAGPIE SUITE
The Magpie Suite is laced with feminist themes of women's courage and strength.
"Women's health is a major thing," says Sarah, who wants to promote her community's "sense of women's health."
"Mental health is an ongoing conversation. Hopefully, things will change so that more people feel comfortable talking about it."
Pregnancy loss and depression-related grieving are major themes in The Magpie Suite.
"I wrote it because having experienced that shortly after we moved to St. Catharines, feeling so isolated, the first thing I did was look on the internet for pieces of art that were specifically about miscarriage and pregnancy loss."
She says she couldn't find much of anything but adds a lot has "started to change, especially in the last decade or so, with people becoming more open about that, but that's why I wrote this."
"I'm openly dedicating it to removing some of the stigma and taboo surrounding pregnancy loss. I'm just hoping that it's going to reach as many people as possible. I hope that I can find as many places to perform it as possible because I think it might make a difference to somebody."
The Magpie Suite is a multidisciplinary, monumental musical work with a large ensemble.
"There are two dancers, a graphic designer, who's designing a live video that will be showing on cues throughout this performance, 21 musicians and a conductor, costume designer, producer—a team of over 30 artistic personnel involved in this project."
ARTISTIC COLLABORATION
Sarah says she's "always interested in collaborating with people artistically."
"For this particular project, we need some presentation collaborators," she says, adding they have a concert booked in Toronto. "I've been looking for a presenter, a place to perform The Magpie Suite locally. Ideally, we need a large-scale theatre or an outdoor space that has enough seating. Also, we do need the projector."
Despite being a sweeping production, The Magpie Suite is an intimate expression of loss and loneliness, which is relatable beyond the parameters of pregnancy loss to include mental health—especially during the pandemic.
"There is one particular movement of the piece that I wrote while the lockdown happened, and I still feel like I really struggle listening to that piece."
During the pandemic, Sarah has also been taking online lessons, including with Montréal composers Christine Jensen and Christopher Smith.
"So I've been able to take a breath into this project a little bit more."
While The Magpie Suite was supposed to be performed at the end of October 2020, it's now postponed until October 2021—"hopefully," Sarah adds, "depending on the state of the world."
"Having an extra year for this mammoth undertaking – it's 75 minutes of music – is a silver lining. So that's been my passion project for the past three years."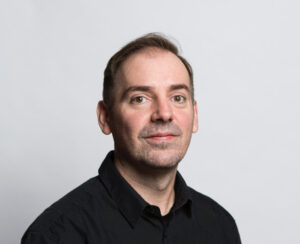 Composing a large ensemble work was inspired by Kenny Wheeler, who spent his formative years at St. Catharines Collegiate high school, located on Catherine Street in the Fitz. He writes "a lot of big band music, music for large ensembles," says Sarah, who adds her partner Rob McBride turned her on to Wheeler's music since she has been back in St. Catharines, "in the same neighbourhood where Wheeler spent a lot of time."
Expressing grief through a large ensemble seemed right to Sarah.
"Wheeler is somebody within this community who enriched this community. He is one of my musical heroes."
Sarah points to The Yeats Project as a sample of her creative work. It's a collection of song cycles set to the poetry of William Butler Yeats, and it was orchestrated for nine instruments, including the voice.
Josh Grosman, the artistic director of the TD Toronto Jazz Festival, describes Sarah's music as "contemporary sounding, but still tuneful—an interesting mix of chamber music and improvisation."
The Yeats Project is innovative, experimental and expressive.
"It was my first all-original project, my first real dive into composition. While a lot has changed for me since then creatively, I'm pretty proud of that. To get that stuff released and out, it was always an uphill battle and took a long time, but I'm really proud of the way it turned out. Rob played on it, and John Sherwood, who is a local pianist. He actually recorded and mixed The Yeats Project."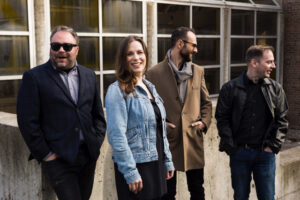 Continuing the momentum, Sarah's jazz quartet Dream Logic recorded tracks in 2018 and 2019 in preparation for the release of a self-titled debut album. Dream Logic will be released internationally on March 26, 2021, by the indie label Three Pines Records. It will also be available on Sarah's Bandcamp.
"I had planned for a CD release tour in February 2021. We have three bookings confirmed in western Canada. We've been waiting to release this album for a really long time! Obviously, I'm waiting on some results to see if it actually pans out – what's happening with COVID – but yes, let's say that there's a miracle between now and February, we'll go on a western Canada tour and a mini Ontario tour to promote the album, which will be the tracks that were recorded in 2018 and 2019 as our self-titled Dream Logic album."
Supporting the local community, Dream Logic recorded at Joe Lapinski's WOW Recording Studio & Creative Music Space, a Fitz-based business. To hear one of the tracks, The Apple Tree Carol, click here.
"We kept it so local—three out of four of us are from St. Catharines. We recorded a few blocks away from our house. The band hangs in the backyard. We perform at In the Soil and Niagara Jazz Festival—very homegrown."
Reflecting on the contrast between writing songs for Dream Logic and composing The Magpie Suite, Sarah says songwriting is more of an oral art form.
"You don't necessarily have to put pencil to paper—it's more lyric-based, it's more texture-based. Composing, especially composing for large ensemble, it's writing things down; composing is improvising in slow motion."
Sometimes, juggling both projects is challenging.
"I get into a songwriting creative space where I'll generate a whole bunch of songs and then lay them down, which is really all-consuming. I feel like I have to work in periods, in chunks. There are so many things that you dive into and explore, and then you kind of move from project to project."
One project Sarah has her sights set on is looping—a repeating section of music she can play over and build on.
"I recently attended an online masterclass by Sienna Dahlen in Montréal, demonstrating her compositional techniques through looping, through using effects and delays and things like that."
MENTORSHIP & LEADERSHIP
Grateful for the influence of mentorship, Sarah recently took lessons with Christine Jensen, a Montréal-based, Juno Award-winning composer, conductor and saxophonist.
"Jensen is a musical hero of mine. I was obsessed with her big band album Habitat for many years, and then I get to study with her! She is a huge mentor. She's also a female composer, and she's badass."
Sarah has also been taking lessons with Christopher Smith, another Montréal-based musician who specializes in trombone.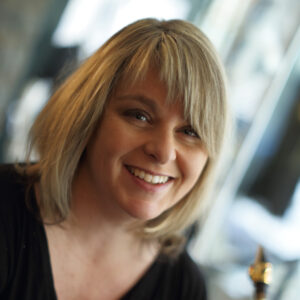 "He is an amazing teacher and composer, too," she says, adding a third teacher of hers is Hamilton composer, conductor and tenor saxophonist Rick Wilkins, who played with the Rob McConnell and The Boss Brass in Toronto for many years. "He's got an Order of Canada, he used to write for CBC, so I've had the opportunity to study with a lot of people who I really admire."
To Sarah, an impactful mentor is someone who's generous with their time and is genuinely interested in helping you.
"My teachers right now in Montréal, Christine and Christopher, they give me so much extra time with them, and they spend their own time looking over things ahead of time. Most people get paid by the hour to do things, but mentorship is not only about money—it's about that genuine curiosity and willingness to help out somebody who's really interested in getting better."
Finding the right fit is important in a mentorship context and also for a musician in a leadership role, Sarah says.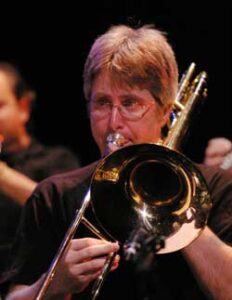 "As the leader, the person who's doing the hiring, I need to feel supported by the musicians I'm playing with technically as well. Technical skill is super important – that's a priority, right? – but it's nice if you can tick both boxes. When there's a spirit of creativity, that's when we're all on the same page. It feels really good."
The need to connect with the people she works with is a critical part of the creative process.
"If a person on stage with me is supportive, there's a kindness that happens, a positivity and an energy that I'm drawn to. I'm looking for somebody who is reliable, who sounds great, who has prepared ahead of time and people who are open-minded to exploring new sounds, willing to explore creatively—and that's the key consideration. When I started working with Rob, I felt supported musically, and I felt like I was also playing with a really kind person. It was just the perfect combo. He's the perfect sideman."
FITZ LANEWAYS ON A WINDY DAY
Both originally from St. Catharines, Sarah and Rob decided to move back home – this time to the Fitz – after living in Toronto.
The neighbourhood, they say, reminds them "so much of Toronto—how vibrant the neighbourhood is, how much foot traffic there is, how close it is to downtown, and just the energy of the neighbourhood."
"I love how individualized each of the houses is. You can just see there's a lot of personality in this neighbourhood, and I don't think I would ever want to move away from this community. I feel like it gives me a lot of creative energy to be around here. I love all the big trees—they're so timeless. It feels like we are surrounded by nature even though we're really close to downtown. You get the best of both worlds in this neighbourhood. It's just so spacious."
Sarah also loves the laneways, their lights and the sound of the wind as it races down the neighbourhood's many nooks and crannies.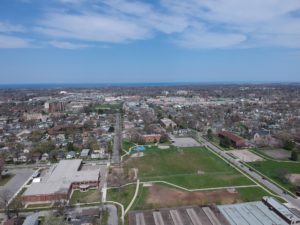 "They're so nice 'cause you see, especially in the pandemic, a lot of kids learning to ride bikes, and you can see their parents are teaching them. It's so nice to see that rolling by your house all the time."
Energized from the vibrant neighbourhood, Sarah is able to flourish while living in the Fitz.
"The quality of life is a lot better down here because we're not in a rat race as much anymore. The financial pressure of not living in Toronto anymore is a huge thing. I feel like I've become more balanced. I'd say more time to just take a walk around the block and look up at the sky, be in our backyard and also take a walk downtown, go grab a coffee, support one of the local businesses down there—being able to do that financially here."
Niagara boasts a significant group of creatives, many of whom live in the Fitz. Sarah enjoys connecting with this community hub right here at home in St. Catharines.
"It's been nice to dig into the community here and the jazz scene here, too. There's a really vibrant – small, but vibrant – jazz scene here," she says, referencing the TD Niagara Jazz Festival and the jazz jam held every Saturday at Cat's Caboose before the pandemic.
"That's been going on for decades at various venues for many years. In the Soil Festival, too! How awesome is that to have that?"
Over the years, music has led Sarah down what she calls some "interesting paths."
"I compose quite a bit and write a lot of original music," she says, adding it creates new opportunities while preventing her and her art from being pigeonholed. "Who I am as an artist is not that cliché jazz singer in a little black dress."
Meet the Fitz Creatives is a profile series highlighting the Fitzgerald neighbourhood's many creative artists, professionals and thinkers.